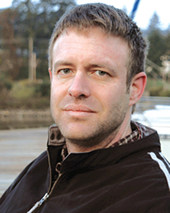 Dr Patterson's magazine article has sparked two military investigations
Photo: Random House
A magazine article written by BC internist, novelist and ex-soldier Dr Kevin Patterson has landed him in serious hot water with the Department of National Defence (DND). The article describes in graphic detail the death of a soldier he treated during a recent stint in Afghanistan. The Army is now looking into whether he breached doctor-patient confidentiality and compromised their ongoing investigation into the young soldier's death.
Dr Patterson's article "Talk to me like my father" appeared in the July/August issue of Mother Jones, a US political magazine. In it, he describes his attempt to save Canadian reservist Cpl Kevin Megeney of Stellarton, NS, who was shot in the chest by "friendly fire" inside his own tent on the NATO base in Kandahar on March 6.
If either or both of the two DND investigations determine that Dr Patterson broke military rules, he could face a Special General Court Martial trial and, if found guilty, jail time.
TWO INVESTIGATIONS
One investigation, conducted by the Military Police, will determine if he committed an offence by disclosing classified information about Cpl Megeney's case.
Dr Patterson, a Canadian Forces veteran who last November was lauded by the military for helping to recruit nearly a dozen physicians from Nanaimo General Hospital to work for the Army, was in Afghanistan as a civilian physician for six weeks earlier this year. He signed an Army security document that bars him from publishing "classified or sensitive information" "related to past, current or future operations."
Dr Kevin Patterson explains why he wrote his article
"Talk to Me Like My Father," which appeared in the July/August issue of Mother Jones, is an emotional, accurate and admiring description of the ISAF troops in Afghanistan and their sacrifices. The essay describes the horror of war in strong language, but to understand the extent of the ongoing sacrifice of the troops, I believe that strong language is necessary. If the public is to get a sense of the price being paid on our behalf by these young men and women, it is necessary to face with open eyes the grotesque nature of war trauma. The recent disengagement and fatigue of the public with these matters is itself grotesque. Reasonable people may disagree on the prospects for a durable solution in Afghanistan, but no one could dispute that these young men and women are there for us, and that it is our duty to understand what it is they endure in order to truly honour them for their courage--and in order to make appropriate decisions about what is to be done in the future.
Kevin Megeney's immediate family was approached by Mother Jones magazine prior to the publication of this piece, and his mother's response was strikingly gracious. Nevertheless, it must have been painful for anyone who loved him to have read this. My intention was to honour their son and brother. -- Dr Kevin Patterson sent this email statement to NRM on August 10
The other investigation is being conducted by the military's Health Services branch to find out whether Dr Patterson committed any medical ethics offences. Some of his colleagues have already made up their minds.
"The one contact he had with that patient was as a medical professional, not a reporter," says Colonel Ronald Brisebois, an Edmonton trauma surgeon whose last tour of duty in Afghanistan overlapped with Dr Patterson's in February; the two worked together briefly. "To publish something like that -- where you name him, you go into details and it's accessible for the family to read his last moments -- is completely inexcusable."
If Dr Patterson had Cpl Megeney's family's permission to release the information, Col Brisebois says, "it would be perfectly fine." However, Cpl Megeney's uncle told the Pictou County, NS, News that the first the family heard of the article was a letter from Mother Jones offering to send them advance copies. (It's been reported elsewhere that Cpl Megeney's mother, a nurse, was fine with Dr Patterson's story.)
DISCLOSURE DEBATE
In an essay published online August 7, Mother Jones editor Clara Jeffery defends the disclosure by saying even an anonymous description would have made Cpl Megeney's identity obvious because his death had already been made public.
Dr Jeff Blackmer, director of the CMA's Office of Ethics, identifies two ethical questions. First, "once some details become public domain, does a duty of patient confidentiality still exist?" he asks. "It seems reasonable to say that some does exist." And second, does patient confidentiality continue after a patient's death? "That's not specifically addressed by our Code of Ethics, and it's still controversial."
Dr Blackmer received a phone call August 10 from Mother Jones asking for clarification on the CMA's ethics guidelines on patient confidentiality. He declined to elaborate on what he advised them.
The justification given for disclosure by Dr Patterson in a statement sent by email to NRM (see sidebar for full text) -- that it was in the interest of the public good -- wouldn't meet the Code's "responsibilities to society" section, says Dr Blackmer.
For more on Dr Patterson's incarnation as acclaimed novelist, see our story "An all-consuming passion," February 15, 2007. His next book, an anthology of writing by soldiers in Afghanistan, appears this fall.