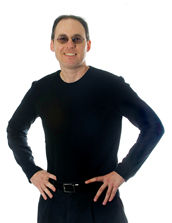 RateMDs co-owner John Swapceinski continues to attract controversy
Photo: Don Feria
RateMDs.com has caught on like wildfire in Canada over the last six months — it now features ratings of over 38,000 Canadian physicians, a nearly 50-fold increase over the 800 doctors rated on the site last fall. Patients love it, most physicians despise it. Last month one Ontario doctor decided to do something about it.
London, ON, family physician Dr Keith Thompson grew more and more irate as the site grew and so too did the number of comments made about him and his colleagues — many of them positive, but also some that were untrue and damaging. In early April, after his requests for changes to the site's owners were rebuffed (he'd asked them to eliminate anonymous ratings and com-ments) Dr Thomp—son began to create false entries to demonstrate the site's susceptibility to subterfuge by unaccountable internet users. He emailed the site's co-founder, John Swapceinski, to tell him what he was doing and to warn that he planned to encourage colleagues to follow suit.
After a protracted exchange with Dr Thompson, Mr Swap-ceinski decided to take Hammurabi's approach and get an eye for an eye. In a message published on the site's public forum on April 7, he posted Dr Thompson's name, city of residence, employer, email address and phone number, as well as excerpts from some of his emails.
Revealing the identity of a user is a huge no-no in cyberspace and a number of forum members blasted Mr Swapceinski for exposing Dr Thompson. The phone number and email have since been removed. Mr Swapceinski has in the past refused to release the identities of the site's users without a legal injunction, despite calls from both the Canadian Medical Association and the Canadian Medical Protec-tion Association to do so several times.
Despite all the flak, he's as defiant as ever. "I'll definitely protect the identities of people who use the site the way it is intended but when people abuse it and try to destroy it, I will not allow that to happen," says Mr Swapceinski by phone from California. "I'll do whatever it takes to stop it."
FALSE ENTRIES
"I spammed the site because I was upset with what I saw about colleagues that I knew was false and because I saw the site as being no more valid than an MSN chat room," Dr Thompson told NRM by email. "I have consistently tried to make my point that ratings or comments need to be available to registered users only — just as the forum discussion is," he added, referring to the site's message board.
Dr Thompson alleges that asking users to register on the site would decrease the number of ratings that include false or libellous information, and that the site's owners only allow anonymous users in order to keep their site's advertising revenue high.
But Mr Swapceinski says the site will not change its policy. "There's always a chance that we might add something like that once we have all the doctors in the country rated," he says, "but as a practical matter, when the site is relatively small, we have to make it as easy as possible for people to add the ratings because there isn't enough content on the site otherwise."
He disputes Dr Thompson's suggestion that restricting the ability to submit ratings to registered users would reduce falsified entries — he says Dr Thompson himself has registered false identities with fake email accounts to post messages to the forum. "He has demonstrated how easy it is to abuse the system even with registration," says Mr Swapceinski.
Other Canadian doctors have begun paying attention to RateMDs as well. Dr Terry Polevoy, a Kitchener physician and creator of the anti-alternative medicine website Healthwatcher.net, admits to signing up with a fake account and rating himself, and a web group called I Hate RateMDs circulated an email in late April asking doctors to create false entries in order to sabotage the site.