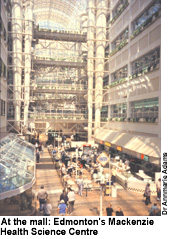 Ever felt like blowing up a hospital? You're not alone. When Calgary General Hospital, built in 1953, was demolished in 1998, the gathered crowd exploded with applause. Today's hospital designers insist they're taking a more humanist approach, but are the US-inspired mega-hospitals cropping up across Canada really such a great idea for us?
NOURISHING BUILDINGS
McGill University Health Centre (MUHC) is about to test those waters with its gargantuan mega-hospital in construction west of downtown Montreal (another mega-hospital is being planned northeast of downtown). "We're shifting from an old paradigm where we fix the patients, to a new paradigm where we nourish the patient and help them heal themselves," enthuses Chief Planning Officer Mr Jean Dufresne. "If you look at a brick wall all day, patients don't heal as fast as when they look at a tree. If you can reduce stress, the patients will heal faster and their stay at the hospital will be shorter."
Not everyone's quite as sold on the idea, though. "We don't know how patients or providers are affected by these spaces," cautions Dr Patricia McKeever, co-director of the Canadian Institutes of Health Research Strategic Training Program in Health Care, Technology and Place at the University of Toronto. "No one has done evidence-based research to show that new buildings are better than the old."
HEALING ENVIRONMENT
Most early hospitals were utilitarian buildings stripped bare with everything painted a sterile white. More recent hospital designs have striven to create a "healing environment, with a return to colour, human affect and a more intimate scale," according to Dr Annmarie Adams, an associate professor at the McGill School of Architecture. As director of Medicine by Design, a project funded by the CIHR, Dr Adams' top focus is the history of hospital architecture in Canada.
The shift toward patient-centred hospitals goes back to the late 70s when Canadian designers rebelled against the boxy hospitals of the 50s. Then came the financial squeeze of the 80s. "In the 80s there were incredible changes in the way healthcare was delivered," says Dr McKeever. "IVs and ventilators went into patients' homes — under fiscal pressure." The result was that homes became more like hospitals, and hospitals became more like homes.
CONTROL FREAKS...
'Patients' rights' are the bywords of the 21st-century planning movement. Ward-based hospitals were great for nurses and doctors, but patients were left with nowhere to hide from prying eyes during their hospital stay. In Mr Dufresne's view, giving patients control over their environment is key. "So we have a high ratio of private rooms, which allow the patient to close their door," he says. "There are places in the States where children get to choose their own wall hangings. So we'll offer kids a choice of posters, because some like Britney Spears, some like Metallica."
Britney aside, Dr Adams isn't so sure this is the way to go. "I'm worried about the trend toward exclusively private rooms," says Dr Adams. "We're blindly following US models, but we have very different healthcare systems." It's still unclear if patients will be charged for the privilege of their newfound privacy.
... AND MALL RATS
And the trend in the ultra-capitalist USA is to model hospitals on Americans' favourite hangout: the mall. Canada's hit the shops with gusto; Toronto and Edmonton both already have successful mall-style hospitals. Toronto's Hospital for Sick Children Atrium Patient Tower, built in 1993, drew on the innovative design of the Walter Mackenzie Health Sciences Centre in Edmonton, 1986 (pictured). "Rather than looking like an office building, it looks more like a mall," says Dr Adams. "It has a grand atrium with a glass roof and many levels. Each area looks out onto the others, so everyone can see everyone else: you can see patients in wheelchairs and stretchers going down to the food fair, sitting in lounges, watching TV."
The mall look is no coincidence: both hospitals were designed by Zeidler Roberts Partnership Architects, the firm that gave us Toronto's Eaton Centre. They're similar in more ways than one — the mall hospitals literally have shops and a food fair. "We're seeing the invasion of fast-food and retail outlets," observed Dr Adams. "You can get out of your room and have a cheeseburger, buy a Roots t-shirt."
So will the MUHC look like a medical mall? "Yes, absolutely!" says Mr Dufresne. "You want to reproduce the environment people are comfortable with."
The mall model may get people spending, but there's no proof that it speeds up healing. The new hospitals may be more comfortable, but Dr Adams can't help noting the irony of the situation. "We spend less time in them — patients are in and out in a day."