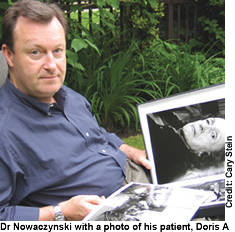 All Dr Mark Nowaczynski wanted was a quiet life, making house calls to his roster of elderly patients and spending time with his family. But by the late 1990s he was tired of watching his housebound patients suffer the effects of Ontario's inadequate homecare system. A long-time photography buff, he had an idea: he asked some of his patients if he could document, in stark black and white, their sickness, squalor and solitude.
GRINDING POVERTY
"Many said no because they were ashamed," says the 45-year-old GP with a specialization in geriatrics. "Here they are living in grinding poverty, in bachelor apartments, in tattered clothes. I told them it was so important to show that this is the reality in the heart of Canada's richest city."
They put their faith in their calm, caring doctor and as a result he's amassed a sizable body of pictures depicting their living conditions. The photos are striking, beautifully capturing the essence of their vulnerable subjects. One shows dapper Mr George W, a retired postman and Second World War veteran and emphysema/chronic bronchitis/heart disease/diabetes sufferer. His hand is aloft in mid-speech, his cigarettes within easy reach, his expression animated. Despite his poor health, George was eligible for just two hours of homecare a week.
Another photo depicts Ms Doris A, a formidable-looking lady living with an ischemic leg, worn out hip joint and osteoarthritis. She was forced to make do with just four hours' help a week. Most heartbreaking of all is Ms Constance C, a frail, beatific 91-year-old with heart problems and dementia. After she broke her arm, the healthcare system left her high and dry when her six weeks of post-acute homecare was abruptly cut off. She faced the grim prospect of being torn away from the only life she knew and having to give up her beloved cat, Oscar. "They were going to put her into a nursing home," says Dr Nowaczynski, still stunned. "She was an obvious candidate for homecare, but she couldn't get the help she needed."
Why do these patients need advocates? Because they don't complain, they make do. "This is a group of people that came of age during the Depression, and they're used to sacrificing," says Dr Nowaczynski. "I find it a sick irony that they're being forced to relive the privations of their youth."
SPOTLIGHT ON AN EPIDEMIC
On Mother's Day 2001, Dr Nowaczynski's private concerns about what he sees as Canada's silent healthcare epidemic gained a powerful public platform when The Globe and Mail published his story and photos in a three-page spread. The piece generated tremendous public buzz and won an award for excellence in healthcare reporting from the Canadian Nurses Association.
Sitting in his midtown Toronto office ? a small, cramped room overflowing with books, plants and papers ? he looks back over the last few years since the story appeared. Three framed black and white photos of his patients stand out among the clutter, frequently drawing his eyes as he speaks of his slight discomfort at being thrust into his new, high-profile role as homecare advocate.
The Montrealer grew up far out of the spotlight, happiest among the test tubes and complex experiments of his father's McGill University lab. As a child he was the only one of six children to take an interest in the work of their father, a scientist and professor of medicine. Dr Nowaczynski's parents, Second World War refugees, emigrated to Canada in 1953 from Poland.
The young science enthusiast planned to follow in his father's footsteps and work as a researcher, and completed a BSc at Queen's and a PhD in physiology at UBC. But the climate of funding cutbacks in the 1980s convinced him to switch to medicine; he got his MD in 1990 from UBC and two years later established his Toronto practice. "I had originally decided to jump into family medicine, but training in internal medicine exposed me to various aspects of complex medical care of the elderly," he recalls. "It didn't scare me away ? I was quite happy to do it at their homes with minimal backup."
It helps that he has the unconditional support of his wife, Zabeen, and their two young children, Adam, 10 and Aliya, 8.
SNAP HAPPY ACTIVIST
One vocation he's never strayed from since his youth is photography. It's always been a passion of his ? and now more than ever. "I realized this is a powerful way to get at people," he says. But he admits that so far he hasn't had much luck getting politicians to see the social and cost benefits of increasing spending on homecare. "Politicians are avoiding the issue of letting people stay in their homes and providing services to prevent institutionalization," he says. "The majority of the homecare budget goes to post-acute homecare ? where does this leave senior citizens who need chronic geriatric homecare?"
HAPPY FUTURES
In one happy ending, The Globe and Mail article and Dr Nowaczynski's photography helped Constance and Oscar bypass the queue and secure a place in an assisted-living facility. It's also landed the doctor at the centre of an entirely new adventure: the National Film Board is just wrapping up shooting of a documentary chronicling his work as well as the personal stories of three of his patients. Called House Calls, the film is slated to air on television sometime in the fall.
"I realized that the movie will be an excellent vehicle to get through doors that are otherwise hard to get through," says Dr Nowaczynski. Meanwhile, the experience has convinced him to view improving homecare as his life's work. "It makes sense to me to do it full time," he says. "All of us are getting old, and we don't want to end up like this."